Prefinished Caladiums for Commercial Growers
Bates Sons & Daughters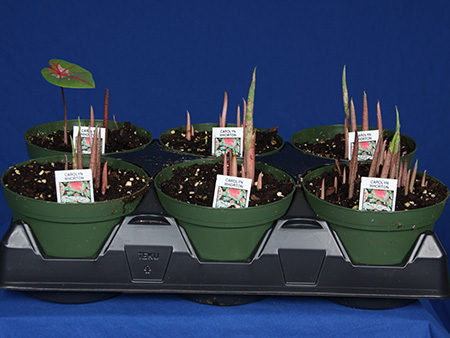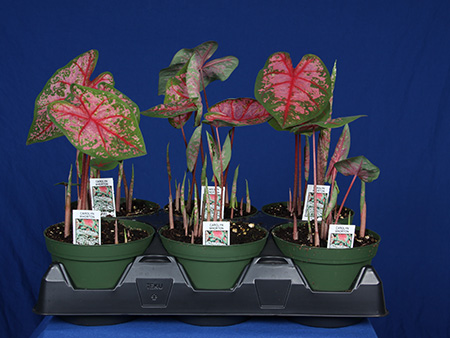 Capital Caladiums Company is a pre-finished caladium pot company. Sheri Bates and Terri Bates, owners of Bates Sons & Daughters, also own and operate Capital Caladiums. It was started in 1987 because they felt there was a need in the greenhouse industry for pre-finished caladiums. Today greenhouse growers all over the country as well as landscape companies are using pre-finished caladiums.
Advantages for Greenhouse Growers:
Saves heat and bench time. Pots, regardless of size, should finish out in 3-5 weeks.
All de-eying, dependent upon pot size and variety, is done before planting.
Fertilization is already done.
Unlike a finished caladium pot shipped out of FL, these caladiums will acclimate to their new environment and will not be past their peak upon arrival.
Each pot is tagged by variety with specific variety picture, growing instructions, and sun tolerance.
If the customer has a branded pot or tag, we can pot their order with their pots or tags.
There is no minimum if a heated truck can be arranged.
All varieties offered by Bates Sons & Daughters are available to the pre-finished customers.
Basically, unpack the rack or boxes, spread the pots, water, and keep temperatures above 65F.
All the work is done but the selling!
Advantages for Landscape Companies: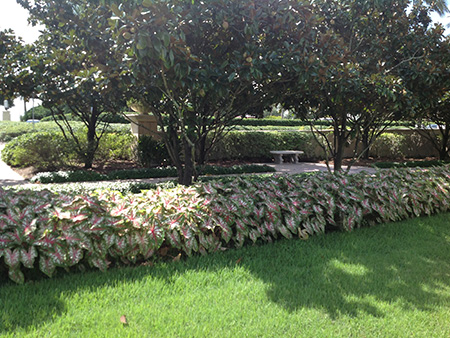 In the summer, a pre-finished caladium will finish out in 7 days with landscape plantings.
Resorts are using them as a summer crop rotation in place of impatiens.
No pinching, spraying, or fertilization is recommended or necessary after planting.
The plant will acclimate to the new environment as it continues to throw more leaves.
One 4" pot on 12" spacing makes a full bed.
Caladiums can tolerate high heat conditions.
All Caladiums do well in the shade but there are numerous varieties that are full sun tolerant even during FL summers.
The landscape company can select their varieties up to 3 weeks ahead- everything is potted to order.
---
Bates Sons & Daughters is now a wholesale only operation. Anyone is welcome to view this site but it is for the benefit of commercial growers.
Thanks from the Bates Family - Dot, Don, Sheri and Terri