Caladiums for Commercial Growers
Bates Sons & Daughters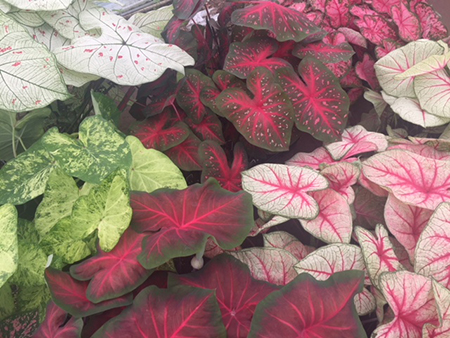 Caladium Growing Instructions
Sizes: The size of a caladium bulb is determined by the diameter of the caladium bulb. A vigorous healthy caladium bulb should have a rounded full base which provides the nutrients for growth of the caladium plant with very little fertilization required. Bates Sons & Daughters are known for their large grade of caladium bulbs.
Our caladium bulbs are sold in 4 sizes.
Grade
#2
#1
JUMBO
MAMMOTH
Diameter
1.0" – 1.5"
1.5" – 2.5"
2.5" – 3.5"
3.5" – & up (limited quantities & varieties)
Recommendations for a full quality pot:
4" – 4.5" pot
6" – 6.5" pot
8" pot
10" pot
12" pot
one #1 or two #2's
one Jumbo or two #1's
four #1's or two Jumbos
five #1's
six #1's or three Jumbos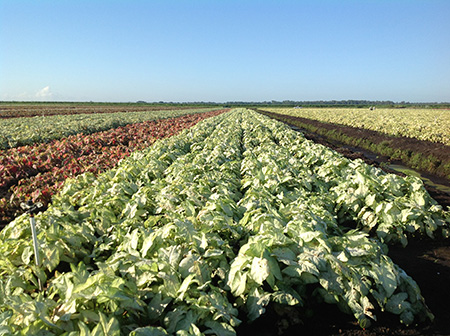 Light and Forcing: Moderate light levels are fine for all varieties- 2500-4500 foot candles. Light is not necessary during the forcing time for caladiums which is generally 3-4 weeks. Stacking pots, covering them with plastic, and forcing them on racks will all work. After the caladiums start to show spikes of 1"-2" then you can spread them on benches. Please note that many caladium varieties are tolerant of full sun conditions. This makes them more adaptable for landscape or mixed container plantings.
Temperatures: Providing adequate heat is the most important factor in timely forcing of caladiums. They force best if temperatures, including night time temperatures, can stay above 70 F. Damage to caladium plants will not occur in the 60's but you will increase forcing time and lose valuable bench space.
Fertilization: Caladiums are low feeders. Do not, we repeat, do not put them on a constant liquid feed program. It will cause toxicity issues that are most noticeable in white varieties. Interveinal browning will occur on the leaves and eventual death of the tissue causing a "windowing effect". One application of 200 ppm at spike time and again 3 weeks later is sufficient.
Water: Keep caladium plants evenly moist- do not let them dry down. Watch your water temperatures. If the water temperatures are in the 50's or lower, the caladium plants will sit there for weeks with no active growth. Also, high pH water can cause symptoms similar to fertilizer damage.
Crop Time: Caladium bulbs planted in January – April will take 8-10 weeks. May- summer months will take 5-6 due to higher temperatures and age of tubers.
De-eyeing Guidelines: What is de-eyeing? De-eyeing is the manual removal of main eyes to break apical dominance. It increases leaf count, decreases leaf size, and results in a short plant with more uniformity. How do you de-eye? Take a small, pointed knife and flick out the main eyes or buds. Be careful not to cut out the small eyes surrounding the main eye. More complete information available on request.
Additional Hints: De-eyeing will increase your forcing time by a week. It can be done any time before potting, preferably 1-2 weeks before to give the tubers time to heal. Varieties with numerous visible eyes do not have strong apical dominance and de-eyeing is unnecessary. De-eyeing will eliminate the large showy leaves and is not recommended in 8" pots or larger.
Plant Growth Regulator: Paclobutrazol (Bonzi) applications will not increase leaf count or break apical dominance. It can, however, give some height control if necessary. Please use caution with PGR's on caladiums. Caladiums are sensitive to PGR's and excessive stunting and greening of white varieties can occur if they are not applied properly. More information is available on request.
If you have any questions on growing caladiums, don't hesitate to contact terri@caladiumsonline.com.
Caladiums for Commercial Growers
2019 Variety Information
ALL CALADIUMS LOVE SHADE BUT THERE ARE SOME VARIETIES THAT TOLERANT FULL SUN
HEIGHTS WITHOUT DE-EYEING: TALL- 18" +, MEDIUM- 12-18", SHORT- 8-12"
DE-EYEING IS ONLY RECOMMENDED FOR VARIETIES MARKED AND ONLY IN 4" OR 6" POTS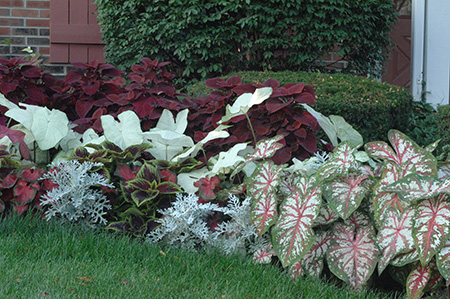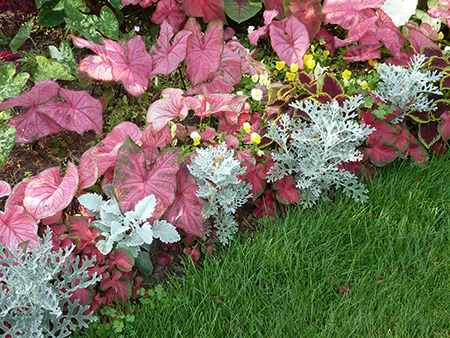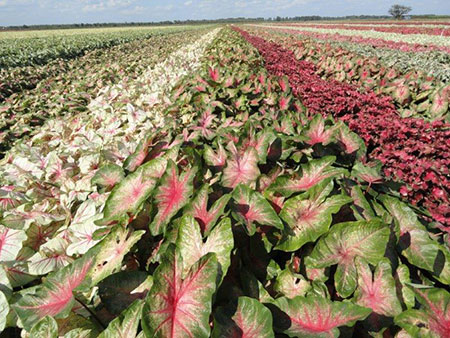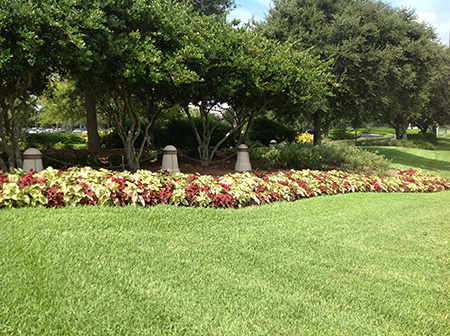 FANCY LEAF CALADIUMS
Name
Sun Tolerant
Height
De-Eye
Univ. Of FL Varieites
Exclusive
WHITE
Aaron
yes
tall
X
Candidum
medium
X
Candidum Sr.
medium
Fantasy
yes
medium
X
Fiesta
yes
short
PP26,833
Garden White
yes
tall
X
PP20,448
Moonlight
yes
medium
PP14,565
Tapestry
yes
tall
X
PP24,432
White Christmas
medium
X
White Queen
yes
tall
X
PINK
Carolyn Whorton
yes
tall
X
Elise
yes
tall
X
X
Fannie Munson
medium
X
Flamingo
yes
medium
X
Hot Pants
yes
tall
X
X
Pink Beauty
medium
X
Rosebud
medium
Spring Fling
yes
medium
X
X
Tequila Sunrise
tall
X
PP20,446
X
RED
Brandywine
tall
X
Freida Hemple
medium
X
Postman Joyner
tall
X
Red Flash
yes
tall
X
Royal Flush
yes
medium
PP24,431
VARIEGATED
Autumn Beauty
yes
tall
X
X
Frog In A Blender
yes
tall
X
X
Seafoam Pink
yes
tall
PENDING
X
Wildfire
yes
medium
X
X
SPECKLED
Gingerland
yes
medium
X
Miss Muffet
yes
medium
Strawberry Star
yes
tall
PP24,681
WHITE STRAPS
Icicle
yes
short
PP29,249
Pearl Blush
yes
medium
X
X
White Wing
yes
medium
X
PINK STRAPS
Pink Gem
yes
short
Pink Symphony
yes
short
Sizzle
yes
short
PP26,591
Sparkler
yes
short
X
Sweetheart
yes
short
X
RED STRAPS
Cherry Tart
yes
short
PP24,680
Red Ruffles
yes
short
PP13,136
---
Bates Sons & Daughters is now a wholesale only operation. Anyone is welcome to view this site but it is for the benefit of commercial growers. We appreciate all the retail business and your patronage.
Thanks from the Bates Family - Dot, Don, Sheri, Terri and Heidi